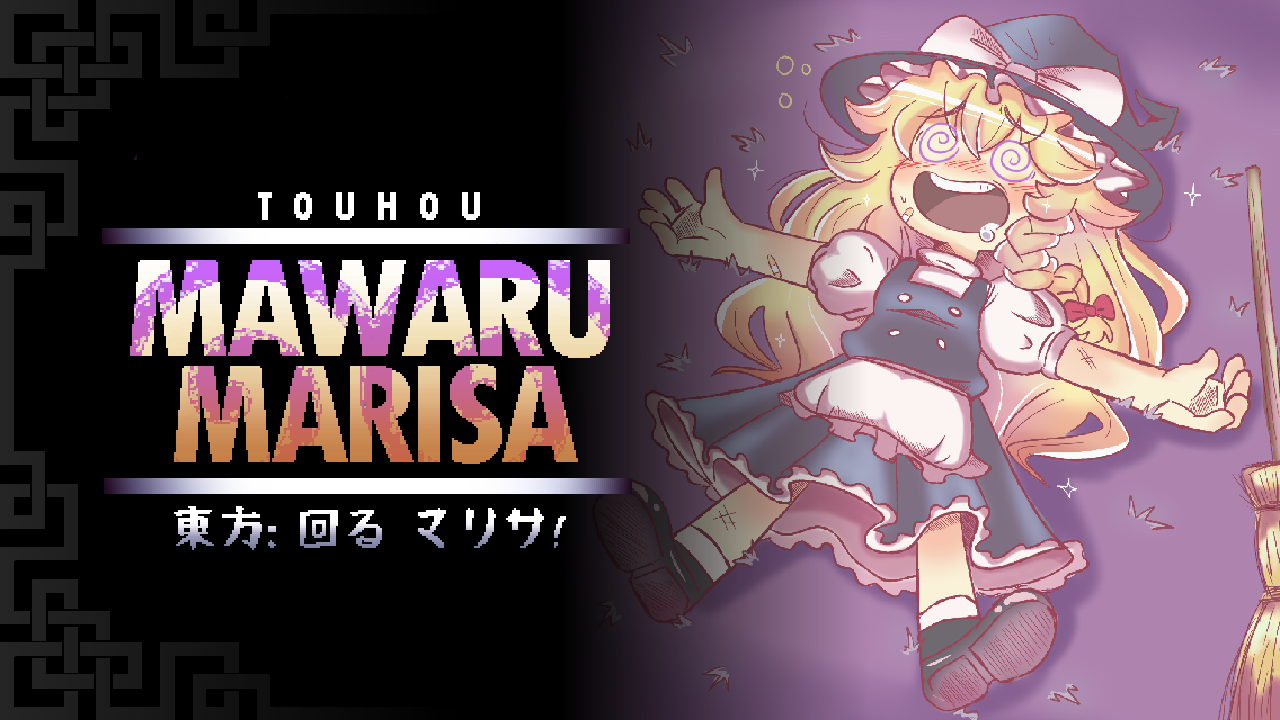 【Touhou】Mawaru Marisa
A downloadable game for Windows and Android
DESCRIPTION:

Marisa is on the run after stealing from the Three Fairies of Light. A shame she is barely on her senses and completely forgot how to fly or use magic spells. But she has a plan. Just spin and crash against the fairies at full speed!

Hold your finger against the screen to start spinning and release to dash. It's that simple!
Just remember to dodge all the danmaku on the way.

Try and help Marisa fight the fairies for as long as possible before she gets kicked off her broom and into sobriety.

The game features 2 game modes:

-Arcade Mode-
The main game mode. Spin, dash, fight fairies and dodge danmaku for as long as you can.

-Zen Mode-
An unlockable sandbox for you to spin and bounce around with some toys.

This is my first ever mobile game. Thank you so much for downloading!

Please, enjoy this Casual Danmaku experience!
(There was supposed to be an HTML5 version buuuuuuuuuuuuuut shit just aint working for some reason lmao. Sorry lads.)
-----------------------------------------------------------
CREDITS:
Game Design/Programming/Sound And Music: Me! here's my twitter lmao
https://twitter.com/CachiCordova
Once again this game wouldnt be possible without the help of my extremely talented lads. Please check out their amazing stuff:
Sprites/UI: https://twitter.com/hogwashdev
Logo/Bullets: https://twitter.com/tzumazaki
Game Over Illustration: https://www.facebook.com/rainbowsuccs/
---------------------------------------------------------------

This is a fanwork of the touhou project series. Please don't sue me ZUN.
Install instructions
INSTALLATION:
Pc (Keep in mind this game was designed with mobiles in mind):
1.- Extract the zip file wherever you want to
2.- Click on the .exe
3.- Have fun!
Android:
You can either download the game directly from the Play Store:
https://play.google.com/store/apps/details?id=com.czo.mawarumarisa
or follow these steps:
1.- Move APK from your PC to your phone
2.- Find the APK in your phone by using a file explorer application (most phones have one by default)
3.- Tap the file and select install
4.- Have fun!
Download
Also available on

Comments
Log in with itch.io to leave a comment.
Great game, I started off playing it on Google play.
I learned it was on itch and did a video
Thanks a lot! Glad to see y'all enjoying this silly thing.